Introduction
Sitting on nineteen green acres looking up to Green Mountain, our facility is only 20-30 minutes from a major interstate (I-65), spur (I-565) and international freight airport, and five minutes from green ways, hiking trails and the gorgeous Tennessee River. All the beauty of North Alabama and all the conveniences of the modern world allow us to serve not only the Southeastern United States, but all the U.S. and the rest of the world as well.
Molding
Our in-house molding equipment ranges from 2 - 250 tons. For larger moldings we sub-contract on presses up to 2,000 tons.
Thermoplastic Injection presses 20-250 Tons
High Speed and Pressure Micro Molding Press
Rotary Thermoset Injection Press
Shuttle Thermoplastic Injection Press
Compression & Transfer Presses
Thermoset Injection Molding Press (200 tons)
Manual Prototype & Insert Molding Presses for Injection Molding
Sheet Vacuum Forming Presses
Mold & Tool Making
mold making machining centers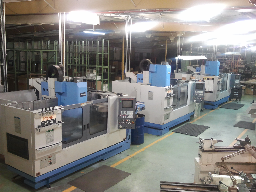 In-house mold building and repair with 3,000 square feet of production area. We build tools from prototypes up to fully automatic hot runner tools. The majority of our production tools are supplied by our fully qualified supplier base both in the States and overseas.
Assembly & Secondary
Various assembly equipment: sonic welding, heat staking, punch presses, spin welder, die cutting, etc.
Warehousing
8,000 square feet of warehouse space
Plant
Office: 30,000 sq. ft
Manufacturing / Warehouse: 50,000 sq. ft
Property: 19 acres
Power: 3,000 Amps, 480/208/110 volts
One very tiny pond