Insert and Overmolding
From tiny threaded inserts, to large complicated shapes we can help you solve your insert molding problems.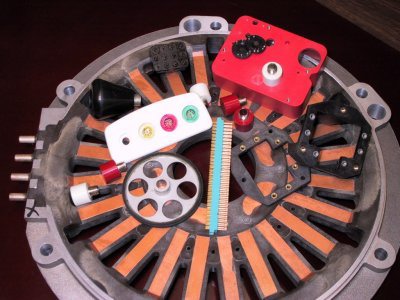 Overmolding and insert molding all types of materials since 1973. We offer plastic injection molding, thermoset molding and thermoplastic elastomer molding.
Threaded Inserts
Over molding Plastics
Custom Inserts
Connectors & Pins
Vulcanizing
Oversized inserts
Insert Molding
Threaded inserts can be molding in place or inserted after molding for thermoplastic parts. Heli-coils and other fasteners can also be installed.
Overmolding
We can overmold almost anything form large metal configurations to delicate circuities. Custom connectors in thermoset or thermoplastic materials.
Custom Inserts, Pins & Hardware
Our in house machine shop can supply the hardware needed and help design custom hardware that meets your requirements.
Vulcanizing
APP can vulcanize all types of rubbers and thermoplastic elastomers (silicones, fluorosilicones, EPDM, neoprene) to most any substrate.
Insert and overmolding in all molding processes.