Plastic and Rubber Injection Molding
A leading supplier of custom injection molded products since 1973 American Precision Products can handle your molding program.
Carefully controlled processes and specifications are our specialty.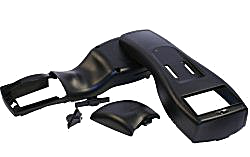 Low Volume to Volume Production Molding Runs
Engineering & Elastomer Molded Resins
Filled and Modified Resins
High Temperature Resins
Insert Molding
Miniature and Micro Molding
Military, Aerospace and Commercial
Injection Molding
We injection mold for a variety of high requirement markets from military and aerospace to transportation. Our molded products help launch missiles and keep satellites moving through the sky. Browse all our capabilities to see how our injection molding expertise will benefit you.
Custom Injection molding of thermoplastics, thermosets & thermoplastic elastomers from micro to mid-sized parts.